To:

President Rodrigo Roa Duterte, Senate President Vicente Castelo Sotto III, Speaker of the House of Representatives Lord Allan Jay Quinto Velasco
Thank You, Next!: Filipino Youth Hold The Key For A #BetterNormal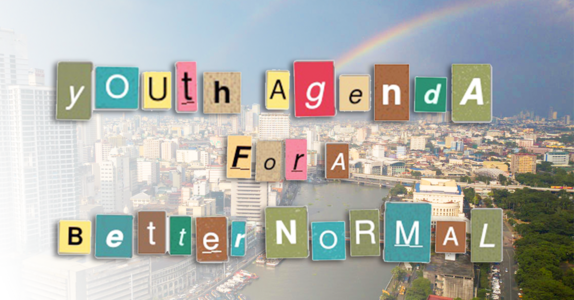 As we face the present global health crisis, it unveiled the current systematic inequalities in terms of healthcare, leadership, governance and crisis management and has greatly affected the youth sector, we are also the generation that will experience the worst consequences of the climate crisis. This is the result of inaction that does not put people and the environment at the front and the center of policy-making.
We believe that the current pandemic has revealed the broken systems, yet it has also opened doors that can enable systemic changes so that the youth of today and future generations will have a chance to thrive in a better world.
With the absence of any specific policy action concerning the youth's needs and interests in the executive recovery plan of the Philippine government, we are putting forward the unified and collective voice of the Filipino Youth from Luzon, Visayas and Mindanao in demanding a better normal.
1. Institute the creation of community and vertical gardens and a farmers' market; prioritize direct procurement from local farmers for produce. We support the passing into law the Integrated Urban Agriculture Bill authored by Representative Jose Benitez.
2. Ban single-use plastics; mandate LGUs to have Material Recovery Facilities; incentivize stores with refill options; support eco-friendly start-ups and small, medium enterprises much more with the existing zero-waste and/or sustainable stores nationwide. We support the passage of Single-use Plastic Product Ban Bill authored by Representative Bienvenido Abante, Jr.
3. Eliminate government subsidies for energy sourced from fossil fuels, increase renewable energy generated capacity for Distribution Utilities; In the face of the climate crisis and the COVID-19 pandemic, what we need are energy sources that are accessible, affordable, available to all FIlipinos, and which do not harm human health.
4. Enhance bike lanes and sidewalks, prioritize improvement, and building of sustainable mass transport systems. We seek the passage of the Sustainable Transportation Bill authored by Hon. Tricia Velasco-Catera.
5. Re-impose moratorium on the cutting of trees as laid down by Executive Order 23, consider incorporating the trees in infrastructure design, create greener, and open spaces for public gatherings. We demand national policies that will support green, livable, inclusive, and safe cities and municipalities, and which will mandate local governments to ensure community-based city design that incorporates green spaces and eco-friendly infrastructure to support the physiological, mental, and societal well-being of people.
6. Uphold youth participation within a society that upholds democratic principles.
A.) We, the youth, represent more than half of the country's population. The decisions that government and businesses make today will impact the world we will inherit.
B.) It is crucial that our voices be heard. In this regard, we call on the government to uphold youth participation in every level of policy decision-making, to encourage the youth in mobilizing themselves as they procure public awareness, provide platforms for youth participation, and guarantee a society that upholds democratic principles so that we may be free to raise our voice and propose solutions without threats of harassment and from the fear of being labeled as troublemakers.
C.) Appoint officials in government who have a professional, moral, and educational backgrounds in their respective positions.
7. Climate emergency is real and it continues to risk various forms of life, not just ours that's why there is a great need to include climate action for the better normal. We plead for you to continue educating others about it and such very urgent action is needed to save what we love and who we love. You can read and sign here The Climate Change and Human Rights Petition.
Why is this important?
Young people defy the normal because normal was the problem. We are going to inherit the present; we are the future.
The youth agenda is centered primarily on the young Filipino People, and none of the youth wanted the world to return to pre-coronavirus normal where we see how broken our society is. We see COVID-19 as an opportunity to address the current socio-economic, political and environmental issues revealed to us by the pandemic, we are now finding ways to reimagine and ratify a new world where leaders are ideal servants in words and actions.
The Filipino youth wants a better normal and we will break the status quo.
#BetterNormalYouthAgenda
#AmbagNgKabataan
How it will be delivered
Due to the current pandemic, we will deliver it online and will be supported by some related activities.