To:

Reps. Julienne "Jam" L. Baronda, Braeden John "BJ" Q. Biron, Raul "Boboy" C. Tupas, Michael B. Gorriceta, Iloilo City, Iloilo, Philippines
Ilonggos Against Anti-Terrorism Bill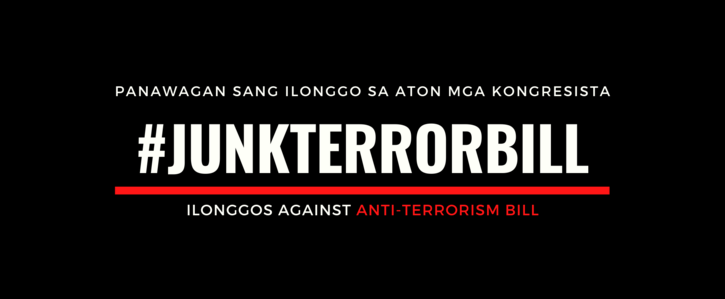 Ilonggos have had a long and illustrious history of dissent and critical thought, persisting even in times of tyranny and injustice. From Teresa Magbanua and Martin Delgado to Graciano Lopez Jaena and Macario Peralta, many have risen up to defend Ilonggos' right to just governance and democracy.
While Filipinos suffer from the effects of the COVID-19 pandemic on their jobs, education, and health, House Bill 6875 or the Anti-Terrorism Bill, which would amend the Human Security Act of 2007 and the country's current anti-terrorism laws, was approved on its third and final reading on June 3, 2020. The bill garnered 168 affirmative votes, 36 negative votes, and 29 abstentions, taking it one step closer to becoming a law despite numerous clamor from various sectors of society.
Among the 168 affirmative votes were ILOILO Representatives Michael Gorriceta (2nd District), Braeden John "BJ" Biron (4th District), Raul "Boboy" Tupas (5th District), and Julienne "Jam" Baronda (Iloilo City).
As concerned citizens of the City and Province of Iloilo, we believe that we should end terrorism, and that perpetrators must be held accountable to the highest extent of the law. But we should do so by targeting the root causes and not by compromising our inherent constitutional rights. The current Anti-Terrorism Bill threatens the fundamental civil rights of every Filipino, especially those who are vocal in their criticisms to the government. It is in this light that we call on our representatives to withdraw their support from and vote NO to the Anti-Terrorism Bill.
The bill will legalize arrests and detention of ordinary citizens without warrant of arrest and based only on mere suspicion. This bill will also permit monitoring, wiretapping, and surveillance of suspects creating an unwarranted intrusion to privacy. These violate provisions under the Bill of Rights of the Constitution.
The bill's definition of terrorism is broad and can open avenues for abuse since even legitimate acts of protests and criticisms could be arbitrarily tagged as acts of terrorism. We fear for innocent lives: our Muslim brothers and sisters who have been tagged as terrorists for the longest time; our farmers who have been consistently oppressed and stolen lands from, and other vulnerable sectors who have been victims of redtagging for fighting for their rights. Knowing that our police and military forces have, time and again, shown brute force and malpractice, this bill will only make Filipinos more vulnerable.
In times of crisis, we urge the government to redirect its efforts to coming up with immediate solutions and safeguards for the Filipinos against the COVID-19 pandemic. This crisis has and will have more social, economic, and political repercussions.
Ang aton frontliners, health workers, skeletal staff, kabataan, kag ang kinamatarong sang tagsa ka Pilipino nga nagapadayon pagpaninguha adlaw-adlaw sa tunga sang pandemya ang dapat nga prayoridad.
To our representatives: We appeal to you. A vote of YES, even with reservations, disregards human rights. An abstention is a betrayal of your public service to the people. Listen to the call of Ilonggos.
We demand that you withdraw your support from the Anti-Terrorism Bill. We demand a vote of "NO".
Why is this important?
By signing this petition, we recognize the value of our democracy. The Anti-Terrorism Bill is an attack on our civil rights and it impedes our freedom of speech. It is important to oppose the bill because it makes voicing out a crime. We urge our local representatives to genuinely represent us, their constituents, and uphold our democratic rights by voting NO to the bill.
#JunkTerrorBill