To:

DPWH
STOP the cutting of trees in Mataasnakahoy, Batangas!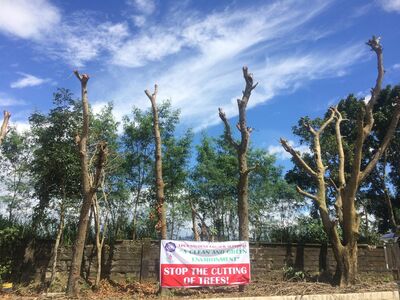 We want the people responsible to reconsider and not cut down the trees along V. Templo St. going in and out of Mataasnakahoy.
Why is this important?
This is an appeal to Mataasnakahoy, its residents and its leaders. Please, I beg you, spare these trees. Let us set a good example. Let us show the world that our progress and our development is not at the expense of these trees. They have stood here for decades, growing. And they are residents of this town as much as I am, as much as we all are. To me, they are so much more than just a bunch of trees. They represent so many memories. I have walked, jogged, biked and ran along that road countless times and I know I'm not the only one. I can't imagine going down that road and not seeing those trees. I can't imagine Mataasnakahoy without them.
But there is still hope. Temporarily, the cutting has been stopped. Together, maybe we can stop it entirely. We need you. Help us, help me speak for those trees. The link below is an online petition to appeal to our leaders and with enough signatures maybe we can change their minds.
Let's show them that we are better than this.