To:

Miss Universe Organization, Department of Tourism
Stop swimming with whale sharks in Oslob
This is a victory. The Department of Tourism - Philippines has crossed out swimming with the whale sharks in Oslob from the itinerary of Miss Universe candidates.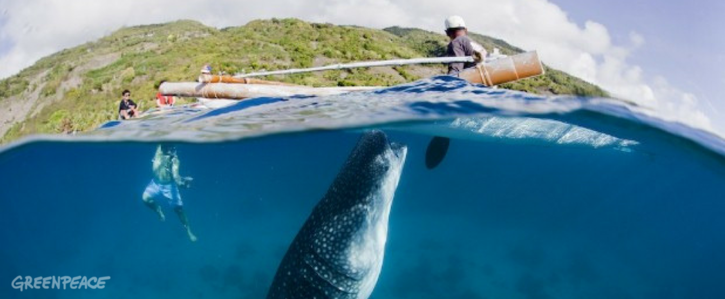 This year's Miss Universe contestants are presently touring the Philippines, and their itinerary includes swimming with butandings in Oslob, Cebu where unethical practices causing harm to the whale sharks and the marine ecosystem have been documented.
We call on the Miss Universe organization to:
- Not mention and/or use footage of the candidates swimming with whale sharks during the pageant, and in all of the pageant's promotional materials
- Publicly state that feeding whale sharks is wrong, and urge the national government to pass the proposed policy standardizing marine wildlife interaction guidelines in the Philippines
- Promote responsible tourism practices (or destinations), especially when endangered and protected species are concerned or are part of the attraction.
- Visit other sites where whale sharks are not fed, such as Donsol, Puerto Princesa Bay, and Sogod Bay or world-renowned marine protected areas such as Apo Island or Apo Reef
Why is this important?
Filipinos were alarmed at the news of the Miss Universe candidates' visit to Oslob, Cebu, to interact with whale sharks.
In the last few years, Oslob has become a controversial tourist destination because the whale sharks are fed dead, frozen shrimp (uyap), disrupting their natural behavior and diet.
"Whale sharks naturally do not spend a lot of time at the surface or in shallow waters, and are migratory species," said AA Yaptinchay, Director of Marine Wildlife Watch of the Philippines.
"They're not supposed to stay in one site for prolonged periods of time. Conditioning whale sharks to approach boats can make them more susceptible to injuries and poaching." Tourism remains unregulated; even if policies have been put in place locally, these destinations find it hard to implement them.
In 2016, the International Union for Conservation of Nature (IUCN) Red List of Threatened Species, classified whale sharks as "endangered." Protected in 1998, the whale shark was the first and one of the few protected shark species in the Philippines.
"With Miss Universe visiting Oslob, it will inevitably be promoting the site to the entire world. We are concerned that this will bring more tourists to Oslob, aggravating the existing problem in the area," added Anna Oposa, co-founder of Save Philippine Seas. "This is also tantamount to the Philippine government telling the world that it is okay to patronize the feeding of the whale sharks and unsound marine wildlife interaction practices."
Vince Cinches, Oceans Campaigner of Greenpeace Philippines, said, "There should be a move to better protect and conserve these species, given their endangered status through a national policy. To reverse the possible impacts, the organizers should publicly say that feeding whale shark is wrong and for tourists to follow interaction guidelines. Being the epicenter of global marine biodiversity the Philippines should pass a national law to ensure that sustainable tourism is in place and that feeding and other harmful activities will no longer happen in the future."
SIGN this petition if you care about whale sharks and marine life in the Philippines!