To:

Department of Tourism, Department of Health (National Task Force Against COVID), Enrique Razon of ICTSI
Sagipin ang Ating Nayon!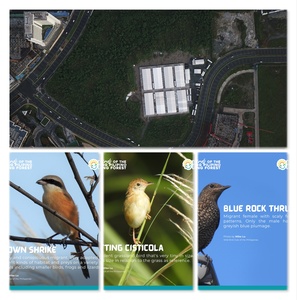 We support the government's efforts to eradicate COVID-19 and urgently respond to a public health emergency, but it should not come at the expense of the law.
We call upon our government leaders to:
1. Protect the Nayong Pilipino Creative and Cultural Hub situated in an urban park in Parañaque. It is not an empty lot, as some have claimed, but has a thriving ecosystem that hosts a variety of wildlife. It is also not a hotel-casino, some reports are mistaken of the plans of the former board of Nayong Pilipino Foundation (NPF) to the current one. As a public park, existing plans of the property consider a free, open, and green healing space ensuring that people will come to enjoy both nature and culture in an urban setting.
2. Decentralize vaccination strategies to improve public health access and reach the grassroots. We are being forced into a false choice between conservation and development when the government has a lot of idle, unutilized, and underutilized assets that we can use before we destroy the only large planned urban park that celebrates natural and cultural heritage.
3. Uphold compliance with Philippine laws, local policies, and health standards. The proposed facility will host both vaccination and quarantine activities which may post a risk of cross-contamination. A private entity will administer the facility and use its property for free contrary to the Government Auditing Code of the Philippines.
As a public property and a temporary facility, detailed planning and assessment should be clearly justified and made available for all. Nayong Pilipino Creative and Cultural Hub is one of the few - if not the only - planned green space in the metropolis that we can expect in the near future.
Why is this important?
DOT, National Task Force Against Covid, and Enrique Razon of ICTSI want to make use of Nayong Pilipino Foundation urban park in Entertainment City in Parañaque for a proposed Mega Vaccination center. They say it is urgent and that the NPF board needs to sign an agreement as soon as possible. The NPF board is still waiting for detailed plans of the mega vaccination site, as it has raised concerns for the growing ecosystem in the urban park. The NPF board also raises legal concerns about the involvement of a private entity - ICTSI Enrique Razon.
What is the need for the NPF urban park and green open space, when there are other existing spaces for inoculation? Since vaccination is urgent, it is more efficient to use existing structures to administer vaccination in Metro Manila. Coliseums, universities, and parking lots are excellent venues for vaccine drives.
Contrary to what the DOT and ICTSI have been saying, the NPF land is not a vacant lot but has a thriving green space that hosts a variety of urban wildlife and is the last remaining grassland in the reclaimed area of Parañaque. The site is a bird flyway network and is close to the Las Piñas-Parañaque Critical Habitat and Ecotourism Area or protected wetlands under the Ramsar Convention, to which the Philippines is a signatory. See wildlife of NPF urban park here:
http://nayongpilipino.gov.ph/the-birds-of-nayong-pilipino-healing-forest/
The cutting of almost 500 trees and other site works would "kill the existing ecosystem. Once lost, it could take decades to recover this ecosystem. A mega-vaccination facility that will destroy this ecosystem would be a disaster and a disservice to the residents of Metro Manila who need more green and open spaces.

Our alliance is seeking transparency on the need for such a development. We also ask for Ground activities not to take place until a MOA between NPF and a government entity has been completed, and not between ICTSI.
The MOA must specifically say that it is only a temporary facility that must be removed after the proposed 300 days. The MOA must also state that the ecosystem is considered in the design, and the size should just be proportionate to the needs of the facility.
Private Entities Cannot Use Government Land
The Nayong Pilipino Creative and Cultural Hub is owned by the Nayong Pilipino Foundation, a Government-Owned and Controlled Corporation under the Department of Tourism. It has its own charter and mandate. There is no official, written agreement between
the NPF, DOT, IATF, and any private entity regarding its conversion into a mega-vaccine facility. The legality of this conversion must be reviewed against Presidential Decree No. 1445 the Government Auditing Code of the Philippines so as to ensure that this public property will not be land-grabbed.
Even Architect and Urban Planner Felino "Jun" A. Palafox of Palafox Associates, was engaged by ICTSI Foundation to design the proposed mega-vaccination center. Palafox has voiced his reservations on the construction of a Mega-Vaccination facility at the NPF Creative and Cultural Hub because:
1.) The land cannot handle medical waste and
2.) It would require the removal of more than 450 trees onsite.
We must save the Nayong Pilipino Creative and Cultural Hub as an urban, green, and open space. This is not about choosing trees over people's lives. People need trees to thrive, not the other way around. Metro Manila needs more green spaces. And if we truly want to end the pandemic, biodiversity matters now more than ever.
How it will be delivered
We will email your signatures to the decision makers and stage a press conference.