To:

Shopee and Lazada
It's Time to Reveal, Reduce, and Redesign for Lazada and Shopee!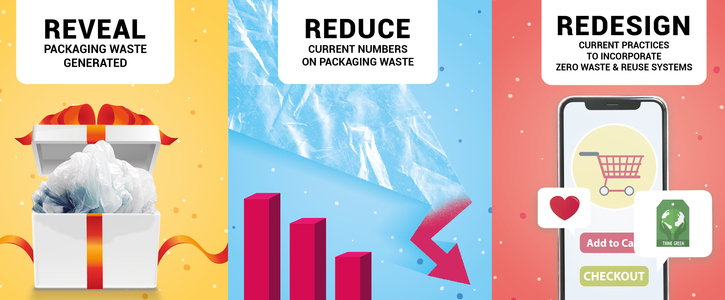 REVEAL

1. Corporate accountability and transparency regarding plastic packaging waste. In order to address the problem, we have to see the bigger picture and understand how much plastic packaging waste is being discarded, and it always begins from its source, the company. This also provides the baseline for future reduction targets for plastic packaging as well. Publishing these estimates publicly also helps build confidence that Lazada Philippines and Shopee are committed to curbing its plastic packaging waste.

2. Show and strengthen internal mechanisms, if there is any, that ensure the environmental sustainability of the company. It will greatly benefit the public if Lazada and Shopee are open and transparent about your other internal company policies that demonstrate your commitment to environmental health through your Corporate Social Responsibility targets.

REDUCE

3. The development of policies that ensure the rational reduction of unnecessary plastic packaging. Consumers have noted that some parcels do not warrant excessive bubble wrap, or multiple layers of plastic which have no use, other than being reused again by some environmentally-minded consumers and vendors. Perhaps it is time to curb down on unnecessary packaging by introducing policies that discourage unnecessary packaging in a rational manner. By rational we mean setting a standard for what kinds of products merit thick plastic wrap, and what doesn't. If vendors are already doing this, we think that it is also time for the platform itself to adopt more environmentally-friendly policies.

4. Setting reduction targets for the reduction of plastic packaging waste. While we understand that vendors and couriers also have the responsibility of cutting down on plastic packaging waste, Lazada Philippines is in an important position especially since your company has an in-house fleet and a stable logistics warehousing infrastructure across different regions in the Philippines. Having this much control over packaging means that Lazada has the power to curb plastic packaging waste. Setting reduction targets ensures your company's commitment to this endeavor, as well as being sustainable enough for your business. Shopee likewise can also reduce unnecessary packaging by working with their logistics partners to come up with reduction targets.

REDESIGN

5. Capacitating small- to medium-sized eco-friendly vendors. What better way to show support than to incentivize eco-friendly vendors who practice no-plastics rules by adopting biodegradable and compostable packaging and encouraging home composting, or vendors who sell eco-friendly products themselves? Some retailers such as The Good Trade PH already have sustainable compostable packaging on hand such as compostable mailers and honeycomb bubble wrap, and Lazada and Shopee can tap and work with them for more sustainable packaging solutions and eco-friendly disposal schemes.

6. Begin thinking about reuse models for packaging. This is already being done in other countries, with companies such as Loop, Zippies, Repack, Fachpack, and e@Box Solution pioneering alternative models for packaging, incorporating return stations for used packaging for reuse.
Why is this important?
The E-Commerce industry has been growing at an exponential rate, projected to be worth more than $300 Billion by 2025. In the Philippines, the industry grew last 2018 by as much as 31%, outpacing the global growth rate of 21%. This is apparent in the huge popularity of e-shopping platforms such as Lazada and Shopee, where we have come to expect to have big monthly sales.
Once our orders reach our doorsteps, however, we are also confronted with another problem: unnecessary plastic packaging waste. It takes an average of just 12 minutes for plastic packaging to transfer from consumer hands to the trash bin.
This problem is exacerbated when we look at the plastic waste we produce annually. Each person contributes around 12.4kg of packaging waste, most of which end up in landfills and left to decompose slowly for hundreds of years. This problem is only magnified because of the current COVID-19 pandemic, where plastic waste is projected to increase by as much as 300%.
As much as consumers are responsible for waste disposal, so too are corporations accountable for the plastic they end up producing, especially unnecessary plastic packaging. Sellers themselves have noted this and are doing reduction and reuse strategies on their own initiative. One doesn't need to look further, our own parents have always reused plastic packaging as a cost-saving technique, and as a waste reduction method!
If consumers and sellers are already doing their share for a healthier planet, why can't corporations take on the same responsibility and accountability? We're calling the largest E-Commerce Companies in the Philippines, Lazada and Shopee, to be part of the #BetterNormal.
How it will be delivered
We plan to engage both Lazada and Shopee during their monthly sales, as well as send this petition through a letter emphasizing on the petition's asks.