To:

National Government and Local Government of Palawan
Let's Save Palawan's Forests!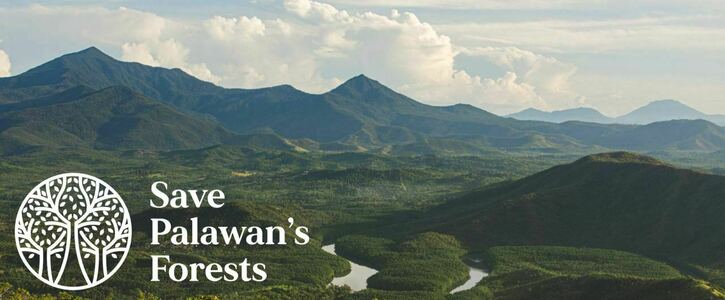 Palawan's forests are known globally for their rich ecosystems with high biodiversity, but they are continuously threatened by mining, monocrop plantations (agro-forestry plantations), and ill-planned infrastructure projects. These projects have resulted in an increasing number of trees being cut and more forest areas being destroyed.
To date, nickel mining companies have been allowed to pursue mineral exploration and development activities in seven municipalities in Southern Palawan. Based on the government data, applications and issued mineral agreements covering exploration, development, and utilization activities are located in more than 10,000 hectares of natural old-growth and secondary forests.
Monocrop plantations such as oil palm, coconut, and rubber plantations have been allowed to expand in natural forest areas and cover approximately 8,000 hectares. In addition, a plantation company has been issued a Joint Venture Agreement and clearances to cover some 3,500 hectares of natural forest. This is despite the absence of a cost-benefit analysis and biodiversity assessment. We find it unconscionable that Government will allow the conversion of natural forests into agricultural plantations without the benefit of scientific studies and genuine community consultations, including free and prior informed consent (FPIC) processes.
Ill-planned infrastructure projects such as six-lane highways, mega-dams, and reclamation projects have resulted in the continually increasing number of cut trees and forests being destroyed.
Palawan is also highly vulnerable to the impacts of climate change. In December 2021, the northern barangays of Puerto Princesa City and the northern municipalities of Palawan suffered unprecedented damage from Super Typhoon Odette (international name "Rai"). Many forest areas and wildlife were devastated by the strong typhoon. The province has seen flooding due to heavy rains compounded by the damaging effects of El Nino.
While Palawan is governed by its own special law, the Strategic Environmental Plan for Palawan (Republic Act No. 7611) provides for a zonation strategy, certain core and restricted use zones have been converted or proposed to be converted to allow large-scale mining and monocrop plantations to operate.
The Save Palawan Movement believes that extractive projects that have threatened and continue to threaten Palawan's natural forests must not be allowed to continue. Forests are critical sources of food, medicine, clean water, and non-timber forest products for indigenous peoples. Forests are also watersheds that irrigate numerous farmlands. Mangrove forests are rich nursery areas for marine life and wildlife habitats and provide an important buffer zone against storm surges.
Various studies have shown the tremendous value of Palawan's forests and the range of ecosystem services that it provides. For instance, a Total Economic Valuation (TEV) study of the Mt. Mantalingahan Protected Landscape (MMPL) underscored that the value of ecosystem good and services (P266 billion) for people far outweigh the value of minerals (P15 billion).
More than 20 years of mining in Southern Palawan has proved that a significant number of forests destroyed have not been rehabilitated, the farmlands inundated with nickel laterite have not been restored, and the threats to biodiversity, livelihood, and health have not been addressed.
Why is this important?
Palawan is our only and last ecological frontier, known for its lush primary forests and rich biodiversity. It has 105 out of the 475 threatened species in the Philippines. Based on the IUCN classification, 105 are endangered, and 67 are endemic to the Philippines. Palawan's forest also provides ecosystem services that benefit the vast communities in Palawan and extend to the whole country by acting as a significant carbon sink. Yet, mining operations, monocrop plantations, and ill-planned infrastructure projects have degraded Palawan's forests for the longest time.
The women, youth, farmers, fishers, indigenous peoples, and residents of Palawan once again join hands to call on the national government and local government to save Palawan's forests by upholding laws that are supposed to protect Palawan's natural forests and stop the issuance of permits, clearances, and legal instruments that the continued destruction of Palawan's forests.