To:

President Duterte, DENR OIC Sampulna, DILG Sec. Año
Demolish illegal resorts, structures in Marikina Watershed!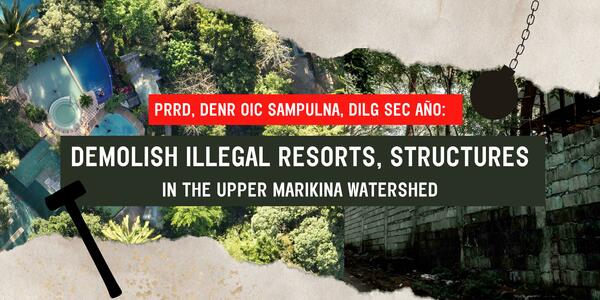 One of the key problems of the Upper Marikina Watershed located in Rizal Province is the the unimpeded illicit encroachment of unscrupulous entities which are harmful to the ecosystem: swimming pool resorts that divert water and tamper on vital waterways, concrete structures that serve as rest houses for the powerful, gamefowl farms, and other forms of land-grabbing.
The problem is compounded by apparent collusion or complicity of government officials who are supposed to be the first defenders of protected areas. In fact, there are reports that rather than prosecuting these encroachers, some officials would rather give reward them with permits. This results in violence to forest defenders, such as the February 2022 attack on Masungi forest rangers.
We ask that the President, through the DENR and DILG Secretaries, take immediate action to demolish, penalize, and prosecute the offenders that have mocked our laws.
While genuine forest-dependent communities and the landless should be supported, we must distinguish them from the malicious and unscrupulous entities that only seek to abuse the poor enforcement of laws.
Let us teach these offenders a lesson and show them that our protected areas can be saved!
Why is this important?
The Upper Marikina River Basin Protected Landscape is Metro Manila and Rizal Province's natural defense against the climate crisis, increasing flooding and landslides, and the loss of clean water. Despite many laws and policies that protect it from exploitation since 1904, the failure of environmental enforcement has led to a disappearing forest cover of only 11%, based on an ongoing study. If this continues, scientists predict that the watershed will only have 5% forest cover left and will ultimately lose its ability to protect Filipinos from impending disasters. Habitats of endangered trees, birds, and other biological heritage will also be destroyed.